Belgium defeated Brazil in a quarterfinal match in Kazan, thus eliminating the last South American team from the 2018 World Cup. Earlier on, France had kicked out Uruguay.
The Belgians' first goal was an own goal, after the ball touched Fernandinho's shoulder. Their second was scored by De Bruyne, still in the first half. In the second, Brazil managed to score with a shot by Renato Augusto, but despite a number of finishes, failed to hit the equalizer.
The Brazilian squad were able to create opportunities and push against their opponents, nonetheless struggling during strenuous 20 minutes in the first half, when Belgium scored their two goals. The Europeans took advantage of the seleção's poor performance and showcased their skill. With physical strength and speedy counterattack moves, the Belgian team did better in the first half and managed to keep the score in the second half. Renato Augusto's goal was not enough to keep Brazil in the Cup.
Brazil started off on an offensive tone, and nearly opened the scoring seven minutes into the match with a corner kick. However, when Brazil seemed to be about to show what they were about, they sustained the first goal. In the 12th minute, the ball touched Fernandinho, fooled goalkeeper Alisson, and in it went.
Thirty minutes into the match, after a corner kick by the Brazilians, the Latin Americans lost possession, giving Lukaku a chance to take over and give it to De Bruyne, who blasted into Alisson's nets from far off.
After the break, Firmino took Willian's place and provided his team with a stronger presence in the penalty area. In the 30th minute, Brazil at last scored its first. Philippe Coutinho, who had performed rather poorly, passed it perfectly to Renato Augusto, who had just come to the field, and hit it with a header. Game on for Brazil. In the 35th minute, the Brazilians finally move close to a tie. Coutinho gave it to Renato Augusto, who in turn sent it straight to the bar and off the goal.
Brazil kept missing good goal opportunities. In the 38th minute, Neymar had possession in a quick counterattack move, and passed it to Coutinho, who shot poorly and at a considerable distance. In the 48th minute, Courtois saved the Belgians for the last time. Neymar was given the ball near the penalty area. The Belgian goalkeeper saved it beautifully and sealed Brazil's elimination from the World Cup.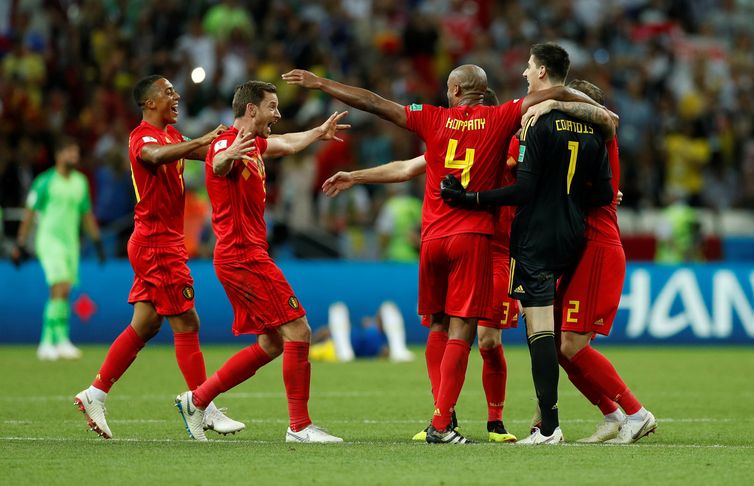 Translation:
Fabrício Ferreira
Edition:
Fernando Fraga/Mariana Branco