The fire at the National Museum of Rio de Janeiro was put out around 3 p.m on Monday (Sept. 3). The firefighters, however, remained on the scene searching for hot embers and pockets of fire.
The Palace of São Cristovão, which would later be turned into a museum, is Brazil's oldest historical institution. It was founded by King Dom João VI in 1818 and served as a residence for the Portuguese royal family. The museum contained more than 20 million items related to the fields of geology, paleontology, botany, zoology and archeology. Due to its linking with the Federal University of Rio de Janeiro, the National Museum was also a research and teaching facility. Besides the biggest Egyptian mummies collection of the Americas, the museum housed Luzia, the oldest human fossil discovered in the continent, the skull of a 20-24 year-old woman believed to have died 12 thousand years ago. The building also housed the Maxakalisaurus topai, the biggest dinosaur skeleton discovered in Brazil.
The museum's deputy director Cristina Serejo was on the scene during the firefighting works. She said that "not the entire collection [of the museum] was lost". A collection of invertebrates was kept safe because it was in one of the outbuildings, not affected by the blaze. Serejo also said that some of the museum researchers managed to get out of the building taking their personal collections.
The museum's director for Preservation, João Carlos Nara, said the fire caused an "irreparable damage" to national research and collections. He informed that the museum team was waiting for the end of the electoral period (in October) to begin preservation and infrastructure works.
"Everything is very old. The water system, the material date to several years ago. There was a crack on the side of the building. That's a permanent threat."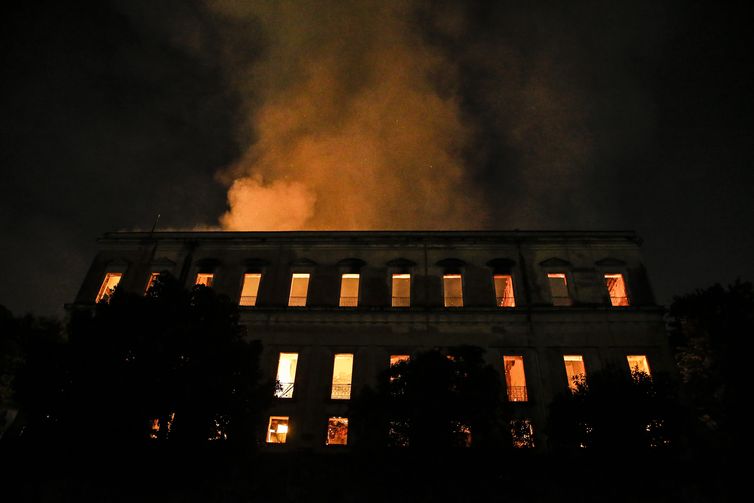 Fire hydrants
According to Rio de Janeiro's fire chief, colonel Roberto Robadey, the firefighting works were hindered due to lack of water. He reported that the firefighters initially used a water tanker truck and, when they ran out of water, unsuccessfully tried  to use the fire hydrants located near the museum. They had to wait until other tanker trucks and water company trucks got to the place.
Translation:
Mariana Branco
Edition:
Nira Foster