São Paulo State Secretary for Public Security João Camilo Pires de Campo, and Colonel Marcelo Salles, military police commander, said on Wednesday (Mar. 13) during a press conference on the massacre at the Raul Brasil school, in Suzano, that the motivation behind the crime is still unknown, but is being investigated by the police. "All these loose ends—the police have to tie them back together now," the secretary said.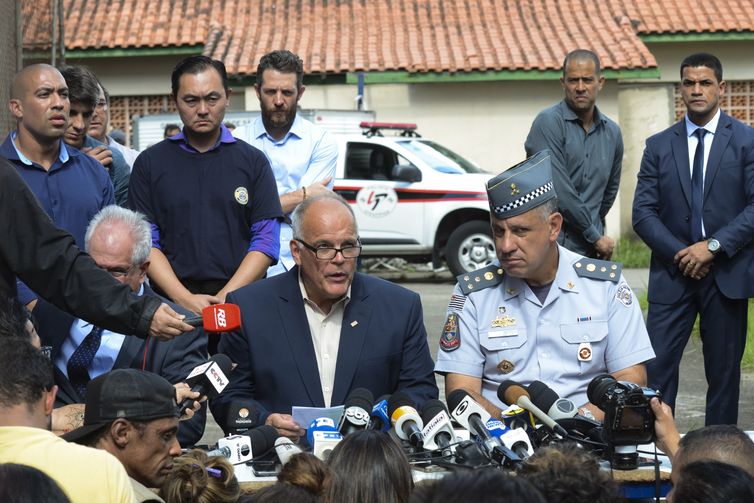 The two gunmen, confirmed as Guilherme Taucci Monteiro, 17, and Luiz Henrique de Castro, 25, were former students at the school. Taucci studied there until last year, and had problems that were not named. An inquiry was opened, and the crime was reconstructed on the scene.
The shooters were given relatively easy access to the school premises, since the gate was open. They arrived in white car and were carrying a .38 gun, four jet luders (for loading), a crossbow, and a hatchet, which was found with one of the gunmen. Before entering the school, they shot the man who owned a car rental shop next door, Jorge Antonio Moraes, who also died.
Once inside, they first shot school Coordinator Marilena Ferreira Vieira Umezo, then employee Eliana Regina de Oliveira Xavier. Next, they aimed at students—five students and two school workers died. The shooters killed themselves.
The students who died are Pablo Henrique Rodrigues, Cleiton Antônio Ribeiro, Caio Oliveira, Samuel Melquíades Silva de Oliveira, and João Vitor Ramos Lemos, who died in the ambulance, on the way to the hospital.
According to official statements, the injured are Leticia Melo Nunes (taken to Hospital Santa Maria), Samuel Silva Felix (Hospital Santa Maria), Beatriz Gonçalves, Anderson Carrilho de Brito (Hospital Santa Maria), Murilo Gomes Louro Benite (Hospital das Clínicas), Jennifer Silva Cavalcanti (Hospital Luzia de Pinho Mello, in Mogi das Cruzes), Leonardo Vinicius Santana, Adna Bezerra, and Guilherme Ramos. No report has been made on their health state.
Translation:
Fabrício Ferreira
Edition:
Nádia Franco / José Romildo