Sweden's Saab delivered to the Brazilian Air Force (FAB) the first aircraft of the 36 Gripen fighter jets purchased by the Brazilian government in 2014. The delivery ceremony was held Tuesday (Sep 10) in Linköping, Sweden, and was attended by Brazilian Defense Minister Fernando Azevedo, Air Force Commandant Lieutenant-Brigadier Antonio Carlos Moretti Bermudez, as well as Brazilian and Swedish authorities.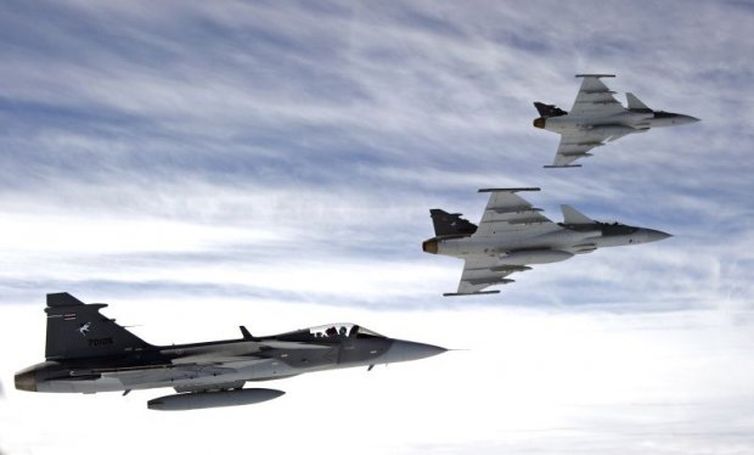 Even though it already belongs to the Brazilian Air Force, F-39 Gripen is not expected to be brought to Brazil before 2021, as a test program is yet to be conducted in Sweden to make sure the aircraft is up to par. An experimental flight was carried out last August and helped engineers and experts assess basic handling, operational systems, and how the jet behaves at different heights and speeds.
Technological transfer
A decision is pending approval to have a portion of the remaining aircraft totally assembled in Brazil as of 2021. The move is part of the technological transfer program that encouraged Brazil to choose the Swedish model over US Boeing and France's Dassault. The contract includes industrial cooperation for the development and production of 36 Gripen E and F aircraft.
Over 350 Brazilians—among them engineers and technicians—actively work in the technological tranfer program, which includes training programs in Sweden, Saab reported. Furthermore, in 2016, Gripen's Project and Development Center was inaugurated in São Paulo state, where Brazilian and Swedish engineers work together. If everything goes as planned, all 36 jets will be delivered by 2024.
During the ceremony, Defense Minister Fernando Azevedo noted that Gripen not only boosts "the operational capacity of the Brazilian Air Force, but also bolsters ties that ensure the transfer of technology to Brazil, stimulates research and the industrial development of the two countries."
On its website, Saab recognizes that the deal signed with Brazil early in 2014 "solidified Saab's reputation in Latin America."
Payment
The initial contract stipulates the payment of 39.3 billion of Swedish crowns (some $4.05 billion) for the development and production of 36 aircraft, plus a technological transfer program enabling the Brazilian industry to develop Gripen jets in the future.
The signing also ended a discussion started in 1995, when Brazil talked about renewing its military air fleet.
The move was described by the firm as "the biggest negotiation in the company's history." The program is said to have begun in October 2015, when the first 50 Brazilian engineers, working for Saab's partner companies in Brazil, moved to Sweden to spend time under training.
Know more
Translation:
Fabrício Ferreira
Edition:
Fernando Fraga / Augusto Queiroz