Brazilian Environment Minister Ricardo Salles said Wednesday (Oct 9) that the oil that has polluted a number of beaches on the coast of Brazil's Northeast comes "very likely" from Venezuela. He mentioned a study by Petrobras on the material during a public hearing of the lower house Commission for Environment and Sustainable Development.
"This oil that's coming—very likely from Venezuela, according to a Petrobras study—is oil that came on a foreign ship, by all accounts navigating near the Brazilian coast, with spills accidental or otherwise, which we're having a really hard time curbing," Salles declared.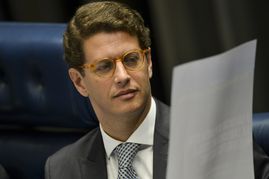 A recent report by the Brazilian Institute of the Environment and Renewable Natural Resources, spills have reached 62 cities across nine states in the Northeast.
On Monday (7), Petrobras had collected 133 tons of waste. The material is reported to be crude oil. Since September 2, it has spread along the coast of the states of Alagoas, Bahia, Ceará, Maranhão, Paraíba, Pernambuco, Piauí, Rio Grande do Norte, and Sergipe.
Translation:
Fabrício Ferreira
Edition:
Denise Griesinger / Augusto Queiroz