St. Patrick's Day, known worldwide as Ireland's national holiday, was celebrated Tuesday (Mar. 19) at the Brasília residence of Ireland's Ambassador to Brazil Seán Hoy, joined by Irish lower house speaker Seán Ó Fearghaíl.
Seán Ó Fearghaíl came to Brazil to establish contact with Brazilian authorities, encourage commercial exchange, and bolster deals on education and culture between the two countries. Ó Fearghaíl met with Brazilian vice-President Hamilton Mourão, Congress members, and members of the economic staff.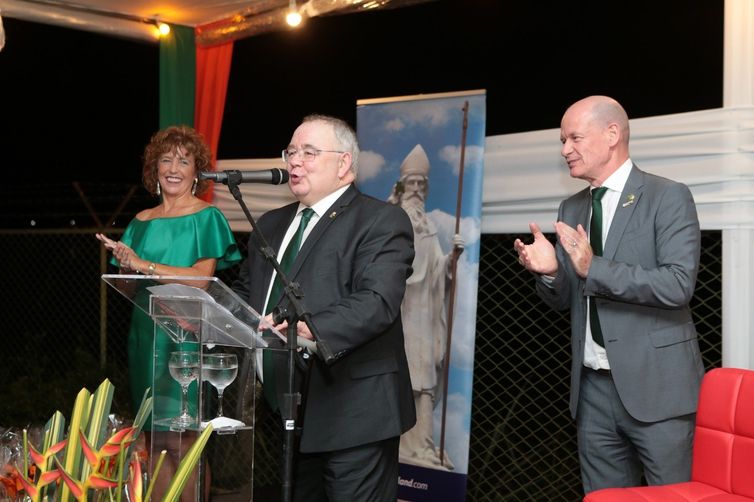 While talking about St. Patrick's Day, the Irish MP mentioned the importance of the date for Ireland and the Irish people, especially to remember the Irish diaspora. Ireland is home to only 5 million people, but 70 million people across the world identify as Irish or as having Irish descent.
"I'm really happy to have come to Brazil," Ó Fearghaíl said. He pointed out that 40 thousand Brazilians live in Ireland today, and that a significant number of Brazilian students are going to the country to learn English or pursue university studies.
Brazilians living in Ireland, he went on to say, "work in every sector of the economy. Not only do they work, they also stand out in a number of fields and contribute to the development of the country," he said.
Ambassador Seán Hoy said that St. Patrick's Day "is the Irish people's gift to the world." He talked about how widespread celebrations are in his country on this day. "Not many countries have their national holidays remembered throughout the world."
Lighting
One of the ways Ireland has chosen to promote its image in Brazil was to provide green lighting for some of the monuments and public buildings in Brazil.
"This lighting stands for friendship and brotherhood between the Irish people and the global community," Hoy said. Among the monuments and buildings given the special lighting was the Teatro Amazonas, in Amazonas state, the Catedral de Brasília, in the federal capital, and Rio de Janeiro's Cristo Redentor, in addition to buildings on Avenida Paulista, in São Paulo.
Translation:
Fabrício Ferreira
Edition:
Augusto Queiroz