Brazil and Austria signed a cooperation deal on technology this week in Vienna. The agreement was signed by the Brazilian Minister of Science, Technology, Innovation and Communications Marcos Pontes and Austrian Minister of Education, Science, and Culture, Iris Eliisa Rauskala.
The terms stipulate that both sides must support and stimulate development among higher education institutes, government agencies, and national centers for scientific and technological research in both countries.
Among the goals of the pact is to "establish a framework for cooperation in research expanding and strengthening activities in areas of common interest, thus encouraging the application of results for economic and social benefits."
Smart Cities
The Brazilian ministry will now seek partnerships with Austria in the field of smart cities. On Friday (Jun 21), Minister Pontes visited Seestadt Aspern, the smart neighborhood project in Vienna.
Pontes's engagements in the Austrian capital also includes meetings with representatives from international organizations, a visit to WeXelerate—Europe's biggest startup incubator—and the inauguration of a nuclear energy laboratory;
Nano-sized propellers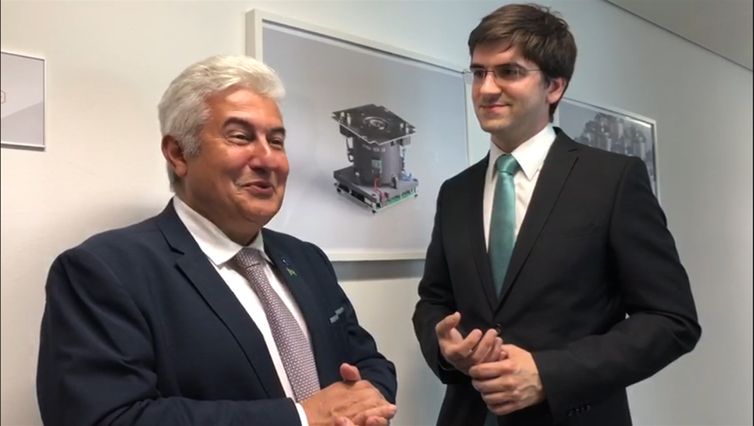 Among the people Pontes met with is Alexandre Reissner, CEO and founder of Austrian company Enpulsion, specialized in propulsion engines for nano- and micro-satellites.
According to Reissner, the success of his company came about after intense research. "We developed this technology in an academic environment for several years, even decades. And then suddenly we saw that there was a market needing this specific technology. […] Academia can't supply a product, so we needed some vehicle to sell it and we had a commercial opportunity."
"We received actually a significant amount of support from institutions of the Austrian government to start this company, so we could really start it with some grants that we received, and programs. Then we built the production for this technology and make it a viable commercial product. And now we're selling it all over the world, from the US to Japan, and, of course, to Europe."
Minister Pontes said one of the advantages of Enpulsion's propeller is that it is compact, and ideal for the market at this moment, with nano- and micro-satellites.
The CEO noted that the product are "ten-centimeter cubes," "like Lego bricks. This is why satellites with different sizes can assemble different amounts of these modules together," he added.
*With information from the ministry's press office and collaboration from TV Brasil reporter Gabriela Noronha
Translation:
Fabrício Ferreira
Edition:
Augusto Queiroz