Brazil's Foreign Minister Ernesto Araújo and Minister or Europe and Foreign Affairs of France Jean-Yves Le Drian stressed the importance of the free-trade agreement between Mercosur and the European Union (EU) for the private sector of Mercosur, signed on June 28 this year.
In a statement to the press at the Itamaraty Palace, seat of Brazil's Foreign Ministry in Brasília, Araújo argued that the deal unveils "excellent" outlooks for the private enterprise and investors and will make it possible for companies in both groups to "take up a better stance in global value chains."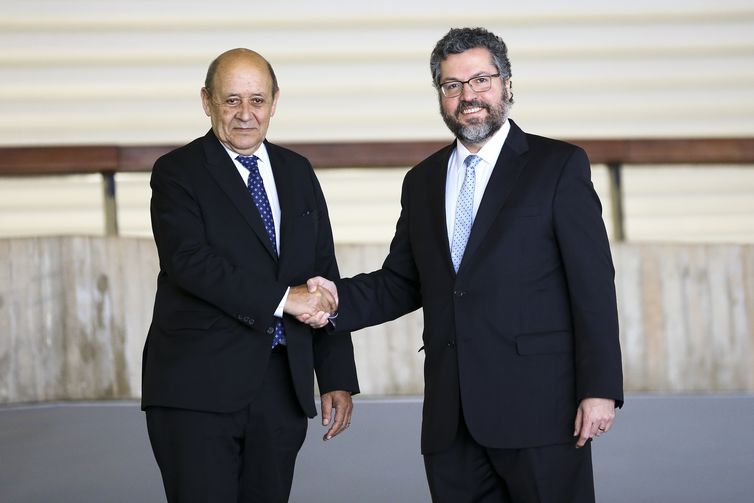 Before becoming effective, the treaty must be approved by the parliaments in countries both in Mercosur and the EU.
Jean-Yves Le Drian said the brought a message from French President Emmanuel Macron to the Brazilian government about the role of direct and transparent dialogue about all topics of common interest.
"This agreement represents an important economic potential for our companies. At the same time, on our part, we must take the time to conduct a full national assessment—independent and transparent—of this accord, which will serve to determine the position of French authorities," the European minister said.
He went on to name three key elements to be taken into account by his country before the document is ratified: the implementation of the Paris Agreement on Climate Change, compliance with French environmental and sanitary rules, and the protection of sensitive areas of the French economy through safeguards.
Environment
The ministers said that the countries have agreed to assemble a work group to exchange information about the commitments under the Paris Agreement, in addition to topics like biodiversity, deforestation, and environmental preservation.
The chancellors inked a cooperation deal between the French Development Agency and Brazil's Caixa Econômica Federal, on water supplies and sanitation, solid waste treatment, urban mobility, and street lighting in Brazilian cities.
Know more
Translation:
Fabrício Ferreira
Edition:
Fernando Fraga / Nira Foster