Brazilian acting President Hamilton Mourão said at an event with Chinese executives in São Paulo on Monday (Sep 9) that the increase in tariff barriers and the risk of recession stemming from the commercial conflict between China and the US affect Brazil.
"The world is watching apprehensively as the tariff barriers increase along with the risk of global recession. We know that short-term gains for Brazil—like more demand for soy—may be compromised by the reduction in the world's economic activity or the imbalance in markets in the long run. Political instability doesn't contribute to economic progress."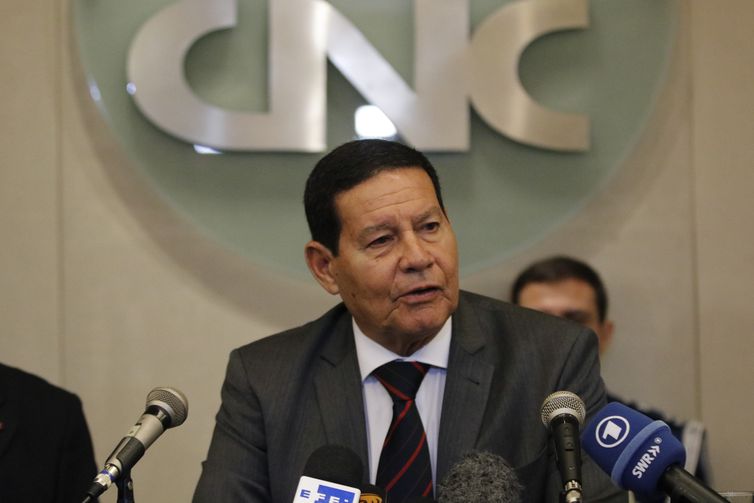 Brazil, Mourão said, has worked to expand and diversify its commercial ties with China. "We have sought to forge relations of confidence and create an environment favorable for the expansion of economic relations with China. This willingness proves even more convenient in the context of a more heated economic confrontation between China and the US," he declared.
Strategic partnership
The acting head of state said he talked with Agriculture Minister Tereza Cristina, who said 25 meatpackers working with pork, beef, and poultry were licensed to export to China.
At a annual meeting of the Brazil–China Business Council (CEBC), Mourão praised the trade partnership between both countries, on the rise in the last few years. He noted that China has been Brazil's biggest commercial partner for ten years. "Expectations point towards a higher and better performance," he said.
Mourão went on to say that the Bolsonaro administration "is carrying out the necessary reforms for Brazil to join a new economic growth cycle." "And we're counting on China as a partner in this path," he added.
During the event, a study dubbed Chinese Investment in Brazil in 2018 was presented, which shows investments from China in Brazil totaled around $60 billion in 2018.
Translation:
Fabrício Ferreira
Edition:
Maria Claudia / Augusto Queiroz