Presidential hopeful Jair Bolsonaro, of the Liberal Social Party (PSL), was sent back to the intensive care unit (ICU) of Albert Einstein Hospital, in São Paulo, where he is recovering well after another surgery, a medical report released this morning (Sep. 13) says.
Bolsonaro had been discharged from the ICU Tuesday (11), but had to undergo an emergency surgery last night to fix abdominal adhesions.
On Wednesday, the candidate showed a progressive abdominal distention, suggesting intestinal obstruction, confirmed by a CT scan.
He then underwent the procedure in which the intestinal adhesions as well as the obstruction were addressed. The doctors also took care of leaking intestinal secretion and a suture previously executed to correct intestinal injuries.
This kind of complication is reported to be more frequent in incidents as the one experienced by Bolsonaro than in scheduled surgeries. A two-hour abdominal cleansing procedure was also conducted.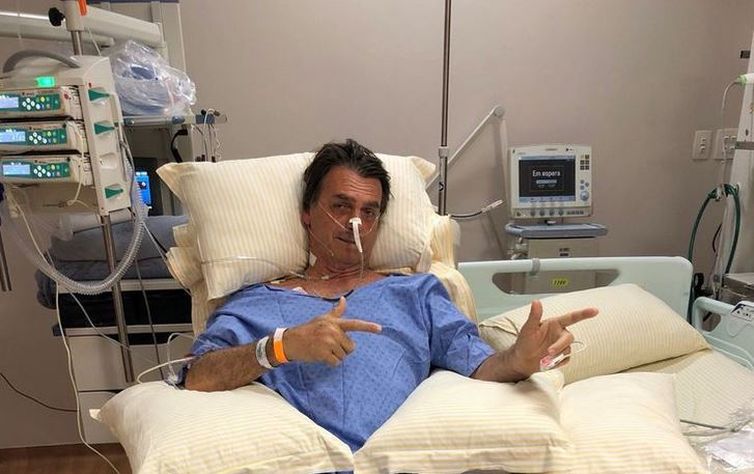 Attack
On September 6, in Juiz de Fora, Minas Gerais, Bolsonaro was stabbed in the abdomen during a march downtown. He was given assistance at a local hospital and underwent surgery.
On the occasion, the doctors found an injured vein in the abdomen, a perforation in his large intestine, with fecal contamination, and further perforation in the small intestine. The medical staff decided for a temporary colostomy to prevent infection in the large intestine.
Bolsonaro was relocated to Albert Einstein on Friday (7), at his family's request.
Translation:
Fabrício Ferreira
Edition:
Lílian Beraldo / Nira Foster