Marlova Jovchelovitch Noleto, director of the United Nations Organization for Education, Science, and Culture (Unesco) in Brazil, noted Tuesday (18) that the efforts to restore the National Museum of Rio de Janeiro will not be concluded quickly.
"We estimate some ten years, a calculation based on similar fires." On September 20, a large-scale fire destroyed the inside of the building and most of the museum's collection, which included 20 million pieces.
"This is work that lasts many years. There's no magic solution for rebuilding the museum in a couple months at the moment. We have a lot of work to do identifying fragments of items from the museum in the rubble," she said in a press conference next to Italian Cristina Menegazzi, head for Unesco's Emergency Mission for the National Museum, and  José Luiz Pedersoli Junior, consultant with the International Centre for the Study of the Preservation and Restoration of Cultural Property, another member of the mission.
"Reconstructing the historical building also takes time, as metals must be identified along with the architectural materials and mural paintings. We believe the work will be done piecemeal, and that the museum may be opened for visitors bit by bit with every stage," Marlova said.
Mission members, including two specialists from Cologne, Germany, have been in Brazil since September 13, and are expected to stay for ten days. Unesco has been working in collaboration with the Federal University of Rio de Janeiro (UFRJ), the Brazilian Institute of Museums, and the National Historical and Artistic Heritage Institute.
After the technical visits to the museum, Pedersoli Junior reported that the emergency efforts will focus on ensuring the structural stability of the building in order to prevent it from collapsing and to salvage the collection as well as architectural elements in the rubble. "Routes with access to the different rooms must be opened because the collections were distributed on three floors. One route has been made up to now," the consultant said.
Menegazzi said that state-of-the-art 3D technology could be used for recovering the archive. "It's a diversified collection. Some objects are unique, some are replicas, and there are many objects of the same type. The archive could be rebuilt with donations from other museums and collections similar to those that were in the National Museum," she argued. "Most of the items had been taken stock of, and that's crucial to knowing what was really lost," she added.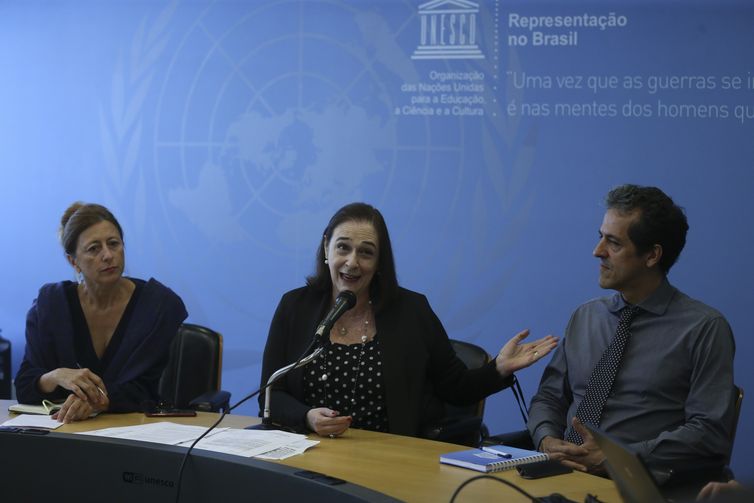 Funding
Marlova said that the restoration plan is being fostered by three sources of funding: Unesco's Emergency Fund, created in 2015, the $2.4 million investment from the Education Ministry for the first efforts for collapse prevention, and donations from other countries.
"Joint efforts have been made internationally, with funding from a number of countries, like Germany, who pledged $11 million. Several countries have vowed to donate collections and funds."
Translation:
Fabrício Ferreira
Edition:
Denise Griesinger / Mariana Branco